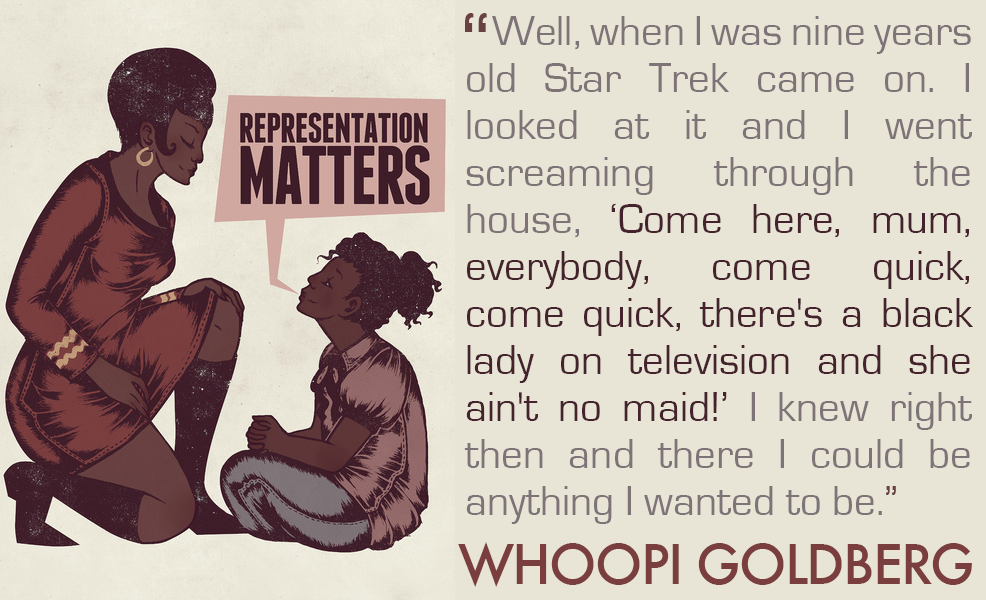 But tackling the under representation of certain groups can lead to backlash, as explored in one of our earlier blog posts '
Is Serena Williams Racist
?' Another example of an attempt to tackle under representation causing unwarranted backlash, is the casting choice (for the character 'Ariel') for the live action of Disney's 'The Little Mermaid' which led to the hashtag #
NotMyAriel
.
Controversy sparked on twitter and other social media platforms due to the hashtag #NotMyAriel. It appeared that many held the view that Ariel should not have been cast as a black girl because it's not true to her original identity, but here's my thing: Ariel is a fish. Her skin tone is in no way relevant to the storyline unlike Princess Jasmine in Aladdin or Pocahontas for example. Those castings cannot be changed as the culture and ethnicity of the character is fundamental to the plot.
"But what if Tiana (Princess and The Frog) was made white? How would you feel then?" Robbed most likely. There are 11 official Disney princesses and only one of which is black – Tiana. In addition, Tiana spends majority of the movie as a frog. Not only this, the movie came out in 2009 and the first Disney princess movie was released into theatre in 1938. This means that little black girls didn't see themselves as princesses, and some did not see themselves as beautiful for over 70 years. So in my opinion, you cannot compare changing the skin colour of a fish to the damaging effects of taking away the token black girl from the Disney catalogue – because let's call her what she is, the token black girl.
Tokenism
itself is a whole other topic to explore separately.
Now let's explore the deeper and long-term effects of under representation using a personal anecdote. After receiving the grades I got at A levels, a few people commented that I should consider going to Oxford or Cambridge. To me, those universities were never an option as I knew I wouldn't have a community there who looked like me. I don't need to be asked why I'm "frying my banana" and that's just that. All jokes aside though, it's no secret that going to one of the top universities would open so many incredible doors for me that I just simply wouldn't have access to otherwise. And yet I am willing to deal with it because the overwhelming sense of feeling as though I don't belong would be too much to bear. The white folk claiming that its "not that deep" are blatantly exposing the true blinding power of their white privilege. White people have no problem seeing themselves represented in both popular culture and non-mainstream outlets, and unfortunately to some because the problem does not affect them it does not exist.
So this prompts two questions:
1) How can we make them see and 2) How do we go about doing more for our community of black children and teens?
Unfortunately, I do not have the answer to the first question as I think it's extremely difficult to open the eyes of a group of people who have glued their own eyes shut. Thankfully, in regards to the latter, rapper Stormzy is doing his bit to combat this issue after starting up his
Stormzy Scholarship
, in which he paid for the tuition of 2 students to Cambridge. With this initiative, he is providing access to opportunities that probably would have likely been unattainable. The more we understand that although we did not create the problem, it's up to us to solve it, the closer I think we will get to racial equality.
The fight against racism is most certainly going to take more than the full 12 rounds.
Shian J